Our meeting on Wednesday 26th October 2016 was full of INTROSPECTION. We had 4 wonderfully thought-provoking speeches with 2 members delivering  their their icebreaker speech and some outstanding brainteasers from our Table Topics Master, plenty of opportunities for us all to reflect!
Under the efficient leadership of our Toastmaster Shalini, the meeting started with 4 prepared speeches of remarkable variety and depth. In her Icebreaker, Amelia talked about her "Road to London" all the way from Brisbane, Australia, and delighted us with a very special rendition of the British accent. Her first ever Toastmasters speech won Amelia the Best Speaker Award, well done! Neil used his Icebreaker to tell us the story of his family's battle with Batten Disease and their trials and tribulations in seeking treatment for their daughter. Did you know that Neil had joined Toastmasters to improve his public speaking skills in order to raise awareness on this little-known disease? Jacek's speech was wonderfully entitled "Are you smarter than your grandparents?", where he demonstrated that our IQ is indeed higher than our grandparents' due to a number of factors. But are we smarter? Not so sure! Florian gave us a superb sales pitch in a project from his Advanced manual, where he convinced us to all get "Networked" through a Network Railcard. All four speakers were given constructive feedback by evaluators Christopher, David, Kris and Christine. Christine won the Best Evaluation Award.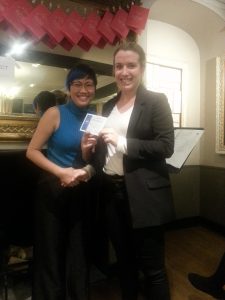 Solmaz our Table Topics Master challenged guests and members to a series of really tricky yet original "job interview" questions. David, our own Division C Table Topics Champion, won the best Table Topic Award. We all wish him luck at the District Conference on 5th November 2016! Michael evaluated all the Table Topics with remarkable speed and insight.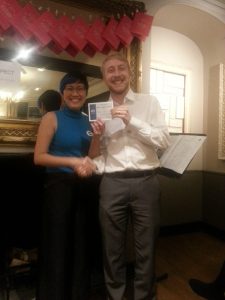 A special shout-out to Stephen who stepped into the role of Timekeeper at the last minute, Kash who was Grammarian for the first time and gave us the wonderful word of the day INTROSPECT, and Kelly and Lauren who attended the meeting and spoke for the first time as brand new members. Welcome and let your Toastmasters journey begin!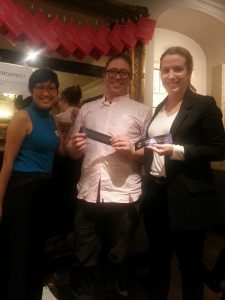 Our meeting ended with a very constructive general evaluation by a Distinguished Toastmaster, David Marks. It was a privilege to be evaluated by such an experienced speaker.