The Williamson Tavern welcomed us into their downstairs venue. They kindly put up posters directing members and guests down the narrow alley just off Bow Lane.
Occupied by Lord Mayors of London until around 1740 when it was sold to Robert Williamson who turned it into a hotel.
Our Toastmaster for the evening Alexa demonstrated how important it is to prepare for the role.
She used a theme of quotes from George Bernard Shaw to suit each speaker and evaluator, which generated a real connectivity with the audience.
She guided us through proceedings with ease despite us all having to rearrange the lay out of the room which, wasn't done for us.
Speakers
Best voted speaker for the evening was Christine Alaby who talked us through becoming our own best friend… on her 5th speech. Thought provoking!
Hearing the speeches of Ziou (Kelly), Margarita who were delivering their first speeches set the pace for the rest of the evening. A brilliant performance to both of you.
Dani delivered his 4th speech entitled 'The longest day in my life" and so it was encapsulating the audience attention throughout.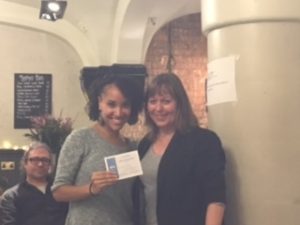 Evaluators
Evaluators were Gavin, Joe, Caroline and Shalini giving commendations and recommendations for not only the speakers but for everyone in the audience too.
Table Topics
Muthukrishnan (Kris) devised some great table topic suggestions based on fantasy and eliciting the opinions of the speakers.
Michael not only won the table topics best speaker he evaluated all the other speakers too.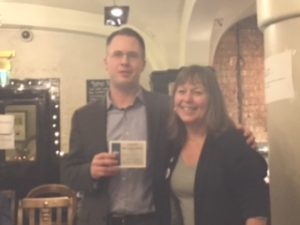 Functionaries
Grammarian – was Neil who listened carefully for all the great uses of English and counted that 8 people used the Word of the Day – ELICIT!
Timekeeper – Lauren a new member stepped in last minute to cover the timekeeper role, as the member allocated couldn't come last minute. Special thanks to Lauren!
General Evaluator
Thanks to Tariq Pasha from Kings Cross Speakers for his feedback on our club from a visitor point of view. We will definitely take a note of the key points that you said in his well-structured speech. Thank you to Tariq