As mentioned above, we ventured up High Holborn to the City Temple Conference Centre for our FESTIVE meeting on 14th December 2016. We had the use of the vast Sanctuary Room, where there was even a microphone at our disposal!
Our Reindeer Toastmaster for the evening was Christine, without the red nose, who steered us through the agenda with the help of her other reindeers. Christine introduced us to the TOA – T is for tap tap tap of your feet…..O is Ohhhhhhh and A for Applause! This was novel way of encouraging audience participation. Judging by the enthusiastic response of all present, the TOA could really catch on at our club!
 Two of our members, Alex and Shalini, delivered their 4th speech – How to say it. They both used such vivid, colourful and evocative language and beautiful phrases, exactly what the main objective was all about! Stephen completed his Competent Communication manual with a touching, inspiring yet humorous speech about becoming a father for the first time. Congratulations Stephen on reaching an important milestone in your Toastmasters journey and good luck with your Advanced Speeches! Thien Trang, Sarah and Florian had the tough job of evaluating our excellent speakers, all within time and with great feedback, which will help and assist everyone.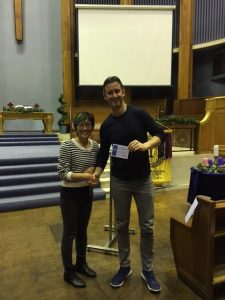 Jacek as Table Topic Master came up with a subject that included not only the table topic speaker but also the whole audience. It was about different countries and what they are best at! It was a most entertaining and informative set of table topics.
David as Grammarian gave us as word of the day the appropriate FESTIVE, which was used by many speakers.  We would like to express special thanks to Ella for stepping in as Timekeeper and James as Sergeant at Arms welcoming our guests.
Isabelle from London Victorians and an ex-member of St. Paul's Speakers returned as General Evaluator and gave us a most positive, yet constructive evaluation. Thank you Isabelle! Your observations and feedback is duly noted.