What an amazing evening we had on Wednesday 28th September 2016! The club held its first competitive event of the Toastmasters Year, the Humorous Speech and Table Topics Contests.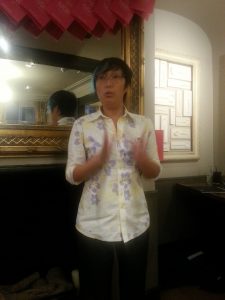 Under the leadership of Contest Chair Caroline Morgan, Christopher Walker, Michael Holmes and David Saer delivered their delightful speeches in the Humorous Speech Contest, ranging from travel mishaps to Donald Trump via the joys of being grumpy. The contestants were anything but grumpy, and filled the room with laughter.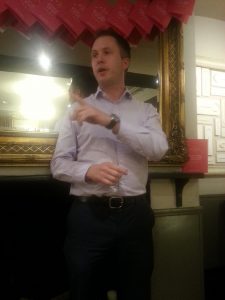 Five contestants competed to deliver the wittiest Table Topic in response to Contest Chair Sarah Beckwith's tricky question: "What advice would you give to your 10-year-old self?" Without any prior preparation, our valiant contestants came up with the most wonderful thoughts, from childhood Christmas memories to musings about the lasting power of friendship via some important life lessons.
All the contestants were judged by some prominent fellow Toastmasters from other London clubs, some of whom were first-time visitors to St. Paul's Speakers. We feel genuinely privileged to have such an array of distinguished members assisting our club contest!
The brilliant David Saer won BOTH contests, and will be representing St. Paul's Speakers at the Area 33 Humorous Speech and Table Topics Contests on Tuesday 4th October 2016!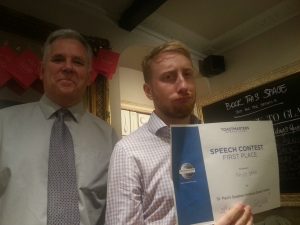 Congratulations to all of the contestants for their participation. Without them, there would have been no contest, and they all helped make the evening an uproarious one! A HUGE thank-you to our Contest Chairs, Time Keepers, Ballot Counters and Sergeant At Arms who demonstrated admirable leadership and organisational skills, as well as their commitment to the club by stepping up and lending the club a helping hand. And A HUGE thank-you of course to all members and guests who came to the meeting, for the fun and the inspiration.