Last Wednesday's meeting was at the Hoop & Grapes, and we were delighted to have many guests attending. Florian kicked off the evening with the President's introduction before handing over to the Toastmaster of the evening, Sarah, to guide us through the evening.
Sarah introduced the functionaries, starting with Andrew as Timekeeper, showing how the stats role can be made fun and lively. Next came Sumit as the grammarian, introducing the word of the day "Newfangled", encouraging speakers to use it as much as possible.
Then came the speeches. Caroline gave her third Toastmasters speech "Mind full or Mindful" talking about the benefits of Mindfulness, as a way to rescue our besieged minds from content overload.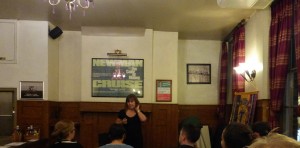 Michael's gave the next speech – titled "Ghost Stories" and he regaled us with suitably spooky (Halloween!) ghoulish stories from his old school.
Our final speaker Elena gave a speech that she is practicing as part of a Toastmasters competition, titled "Wanted: 1 husband" in which Elena humorously told us about her tireless efforts to find a husband, helped/hindered by her family.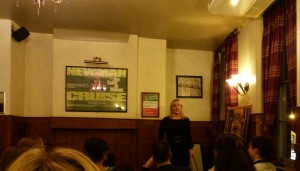 After the break came the evaluations, starting with Thien who congratulated Caroline on her speech, and reminding the audience on how well Caroline did in making things very visual. Mikhail gave a thorough evaluation of Michael's speech, reviewing the structure of the speech. David congratulated Elena's speech, making good points on body movements.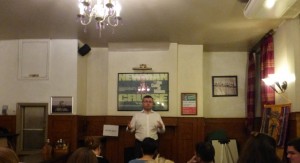 Then came the table topics – with a Halloween theme. Many of the guests took part in the impromptu speaking and did extremely well.
Andrew congratulated the table topic speakers on their times, with everyone speaking over (or just before) a minute was up, with Florian then giving a thorough evaluation of the table topics
Sumit noted the many interesting word choices in his grammarian report, and just wished we used the word of the day more!
We were fortunate to have a General Evaluator, Swarajit, who evaluated the evening as a whole.