Our last meeting in St Botolph without Aldgate church meant that we were a "little bit closer to god according" to Toastmaster of the evening Michael. Nevertheless, with fabulous acoustics a a grand décor, the church is in many ways an ideal environment for a speaker!
Keeping tabs on the time each speaker took to speak, was timekeeper Eliza. Looking after everyone's language and those dreaded hums and err, was grammarian Christopher with 'Audacious' as word of the day.
Our first speaker of the night was Dani urging us to 'Challenge Yourself' through his speech highlighting his experience of training to run a marathon. Dani had a clear and well structured message that positively reinforced his message. Objectives met for his second speaking project! Following on was second speaker, club president Florian Bay with 'A Collection of Poems'. His first poem was The Night Mail by W.H. Auden on the journey of the night mail trains from London to Glasgow. The second poem was famous poem Invictus by W.E. Henley. Florian used a series of vocal techniques to bring the poetry to life, as per the objectives of this interpretative reading project. Finally, our last speaker was Alan doing an improvised speech on the history of New York City.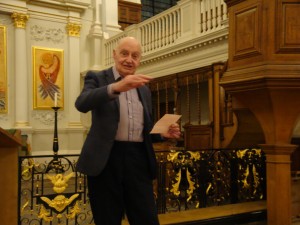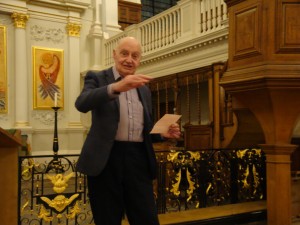 Evaluating the first speaker was Alan who praised Dani's structure but recommended that more drama be added to the speech. Sarah then evaluated Florian and commended his rhythm and use of vocal variety. Finally, Caroline evaluated Alan's speech and praised his descriptive language.
The table topics session chaired by Christopher had pictures from newspapers as overall theme. With participants having to invent the story or message behind these. Both members and guests had great fun in this session later evaluated by Caroline. Finally the meeting was wrapped up with guest general evaluator, Svetlana's report on how the club did this evening!