Co-President's Message
As the contest season is in full swing at Toastmasters clubs around the world, we would like to thank all our members who participated in St. Paul's Speakers International Speech and Evaluation Contest on Wednesday 8th March 2017 – which also happened to be International Women's Day! We had a wonderful evening, and 2 extremely deserving winners.
Last Meeting
Our meeting on Wednesday 8th March 2017 was indeed a wonderful evening of competition. The Speech contest had 2 brilliant speeches given by Christine and David. While Christine told us a deeply personal story of her journey of self-exploration in order to "unmask" the real her, David made an impassioned call for action, exhorting us all to take 3 important steps to save the planet.
For our Evaluation Contest, we were privileged to welcome a mystery speaker, who delivered a fantastic speech on the reasons why we should consume more art. Her speech evidently inspired all of our 5 evaluation contestants – Caroline, Gavin, James, Shaun and David. Each evaluation, unique in style and substance, was delivered with aplomb and equal enthusiasm.
The winners from the 2 contests are:
Christine Alaby for the International Speech Contest
David Saer for the Evaluation Contest – repeating his performance from last year!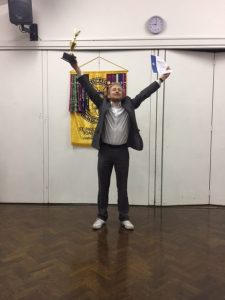 A huge thanks to all the functionaries who helped run the evening, and of course to all our judges – who shall remain nameless – for their sagacious adjudicating!
Both Christine and David will now represent St. Paul's Speakers at the Area 33 Contest on Monday 20th March 2017 at CASS Speakers. PLEASE COME ALONG TO SUPPORT THEM!
Also of note is the fact that Christopher Walker, one of our dear members, did exceedingly well at the Area 52 Evaluation contest and is now going through to the Division B contest on Saturday 22nd April 2017. Congratulations to Chris and if you are able to, please go along to support Chris and experience the competition at a high level! You can book and see the agenda here: https://www.eventbrite.com/e/london-speaking-forum-2017-tickets-32800235387