Co-President's Message
Following the tragic events in Westminster on Wednesday 22nd March 2017….. we wondered how our meeting was going to go and whether our speakers and functionaries were even going to get there.
We were pleasantly surprised when we not only had most functionaries come…. St Paul's Speakers welcomed some new guests too. What a resilient bunch of people we all are!
Our thoughts and condolences go to the families of those who died….
Wednesday 22nd March Meeting
"Sometimes when you innovate, you make mistakes. It is best to admit them quickly, and get on with improving your other innovations."
– Steve Jobs
Word of the day: Innovate
Our Wednesday 22nd March meeting was lead by Muthkrishnan (Krish) as our Toastmaster for the evening with the help of Rakesh as Time Keeper. James was our Grammarian. Krish also acted in his permanent role of  Sergeant at Arms.
Shalini delivered her 5th speech and was evaluated by Thien Trang
David gave us a rendition for one of his advanced interpretive speeches, which was evaluated by Christopher.
Another advanced speech as The Entertaining Speaker Florian performed a humorous and fun speech and was evaluated by Oleksandra ( Alex).
Caroline stepped in to be Table Topics Master and devised some 'innovative' questions to members and guests alike.
Michael gave commendations and recommendations to all the table topic speakers.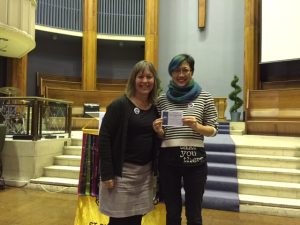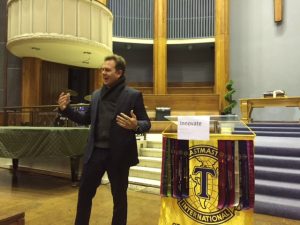 Our Latest Meeting
Improv Time!
The 5th Wednesday Meeting of March certainly raised the tradition of being Mad March!
From acting out Elephants and James Bond to telling a story of David Cameron visiting China together with Batman – Two Robins – Superman and Dare Devil to name but a few helped the evening flow hilariously by our willing and fun members and guests! There were more skills learnt to work on to not only enhance our development as a team player and leader but also to bring in the skills in Toastmasters and of course everyone's social life as well.
It was a light-hearted and fun experience and for those not there… Shame you missed it!
A number of people asked where they could do more Improvisation and so here is a couple of websites you could check out. www.sproutideas.co.uk or www.hooplaimpro.com there are many more too.