Club Vice-President Membership Caroline was in charge of our last meeting as Toastmaster of the meeting. Ably assisted by Dani as timekeeper to keep meeting segments on time and Andrew as grammarian with "demure" as word of the day.
The first speaker of this meeting was Eliza with her speech "Just do It!" Her speech weaved together the power of doing to do lists, the book of the same name by author Michael Gayle and her desire to practice spoken English more to help her in her career. Our second speaker was club President Florian Bay with a reading of "Henry V – Act IV" by Shakespeare. Florian used vocal techniques to bring each characters to life and the the play into the meeting over a quarter of an hour. Our final speaker was Toastmasters Reinvigorated Education Programme Area 33 ambassador for a talk on the various facets of this big upcoming change of the Toastmasters Educational programme.
Our meeting's speech evaluators were David and Stephen who provided recommendations and feedback on our various speakers. Including suggestions on how their could further improve their speeches.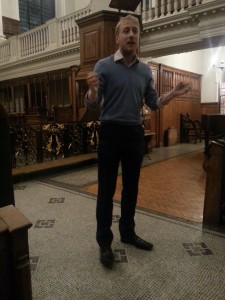 The table topics session was facilitated by Anne who livened up the meeting with a series of questions alongside the theme of positions on various policy questions. Questions included "how would you combat obesity" "what would you do against terrorism" "how to mitigate antibiotics resistance". The session was evaluated by Hamad who gave feedback on all the table topics speakers.
Andrew then finished off the meeting with his grammarian report.
See you all in St Botolph again on December 9th.