St Paul's Speakers had an evening honeycombed with four fantastic speeches, four insightful evaluations, and a full set of table topics.
The meeting began with our Sargent-at-arms, Greg, introducing the meeting and handing over the stage to our Club President. Rakesh took to the stage buzzing like a bee! He explained that, when bees find a nutritious flower, they return to the hive and point their sting in the direction of that flower, so that other bees can follow. He promised an evening full of energy and enthusiasm, and he hoped that audience members would point others in the direction of St. Paul's Speakers. Rakesh made for a very convincing bee.
The toastmaster for the evening was Ling. She announced that the theme of the evening would be "Pride". She guided the evening with charm and confidence, moving effortlessly from one speaker to another, and announcing the achievements that each speaker was proud of.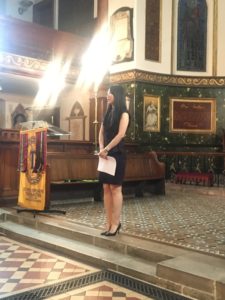 The first of the functionaries was the timekeeper, Arushi, who gave a clear explanation of her role, and of the importance of keeping in time. Our grammarian Henrique followed, explaining his role and disclosing the word of the day – auspicious.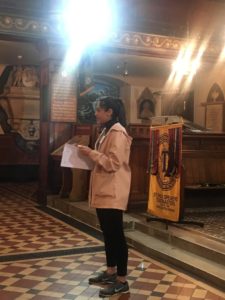 The first speaker was Mark. He told a compelling and inspiring personal story on the fear of public speaking, giving the audience helpful suggestions on how to deal with it. A fantastic second speech!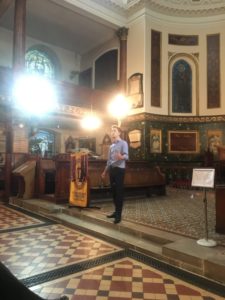 The second speaker was Ricardo. He told us about his recent ski holiday, noting that it didn't seem like a holiday at all. What's the fun in being in a constant state of fear as you throw yourself down icy mountains? Ricardo explained that the upshot of facing one type of fear is that it helps you to tackle other types (such as fear of public speaking!).
Alessandro was the third speaker, and he talked to us about procrastination. He deftly presented the topic under the cloak of his own lack of preparation, but it quickly became obvious from his great structure and use of humour that he spent some time preparing his speech. The audience was unanimous in its praise.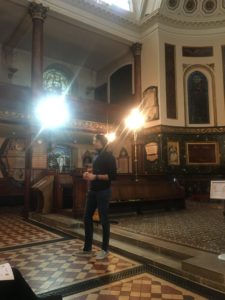 The final speaker was Pedro, who started by taking the audience high up in the clouds, only to bring us right back down to earth. He explained the role and functionality of cloud computing in our everyday lives. A great effort in making computing interesting!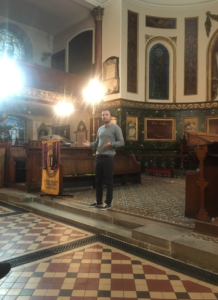 Next up were the speech evaluators, Martin, Chris, Michelle, and Rakesh. They all gave the speakers excellent feedback on their stage presence, delivery, use of language, and movement on stage. Takeaway for the evening – move with purpose!
Our Table Topics Master Marcin produced a list of book titles, which each speaker had to persuade the audience to sell. With tricky subjects taken from real book titles such as "Freedom is not a seven letter word" or "Why is feminism so silly?", Marcin managed to strike the perfect balance between challenging, approachable, and entertaining table topics. The Table Topics winner for the evening, Michelle, did by far the best job in selling us her book on "Getting all you ever wanted". With ready buyers, maybe it's time to start writing that book Michelle!
Ian, our Topic Evaluator, gave useful feedback to every speaker, and was particularly interested in noting any incorrect use of grammar. Excellent job on keeping the speakers on their toes.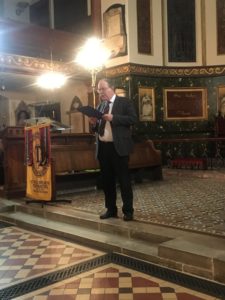 At the end of the meeting, Mohammed acted as General Evaluator. As a very experienced speaker, he gave us clear and concise feedback on our meeting, including on our use of tone and movement. A masterly display of a GE's role!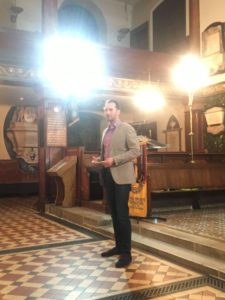 As for the evening's awards:
Best Speaker – Ricardo
Best Table Topic – Michelle
Best Evaluator – Rakesh
New Members – Greg, Henrique, Omotoke
Innovative Planning Pathways L1 – Chris Walker
Dynamic Leadership Pathways L1 & L2 – Rakesh Patel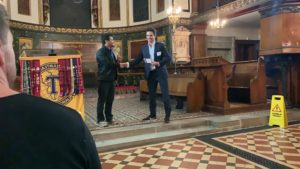 Congratulations to all the speakers, new members, and a special thanks to Mohammed for being our General Evaluator for the evening. An auspicious start to Q2 2019 for St Paul's Speakers!