In our last meeting we enjoyed three brilliant speeches from speakers nearing the end of the Competent Communicator manual. The Competent Communicator manual acts as a guide for the first 10 speeches of a member of Toastmasters, with each speech developing a particular public speaking skill.

Caroline took the reins as Toastmaster of the evening, charismatically introducing the speakers, and functionaries, with Kris the evening's Timekeeper (making sure everything runs to time), and Joy the Grammarian of the evening, who looked-out for interesting word usage, and introduced the word of the day "Brevity" for speakers to try to fit in their speeches.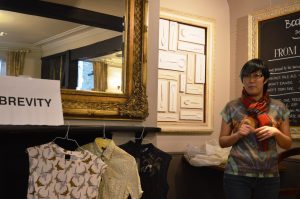 The first speech of the evening was Thien-Trang's "It's Priceless" which focused on the poor working conditions of the people in developing countries who make the clothes that we wear. Thien-Trang conveyed her heartfelt interest in the issue, and used props support her points. The objective of the speech was Research Your Topic (speech number 7) which Thien-Trang did well, with some memorable and hard-hitting facts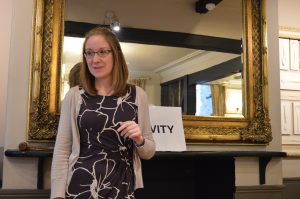 Sarah gave her 9th speech, the objective: Persuade with Power. In a speech titled "The Simple Things" Sarah focused on the issue of how technology can be a barrier to experiencing the world in a more direct way. The speech worked well in using accessible arguments and visual images to persuade the audience to put down their smartphone and open their eyes.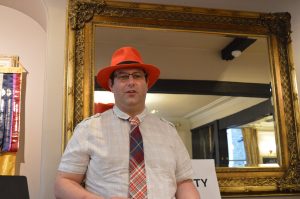 Christopher delivered his TENTH! speech, marking the end of the Comptenant Communicator manual, and his move into the advanced manuals. The objective of the speech was to Inspire Your Audience. In a speech titled "It's Good to be Free" Christopher inspired his audience with the beauty and importance of of open-source software, without which a huge amount of computer-based technology would not be possible. The speech provided an excellent history of open source software and gave some great examples, in a speech that used props well and conveyed passion.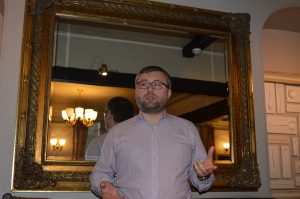 Evaluations are one of the most important aspects of Toastmasters, allowing speakers to gain an understanding of the things that went well and the things that can be improved upon. Providing the evaluations in the second part of the evening for three speakers were Florian, Mikhail, and James.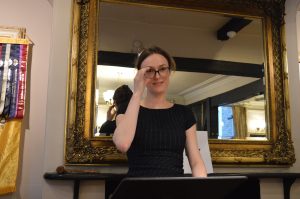 Oleksandra was the evening's Table Topics Master. Table topics are all about impromptu speaking, and Oleksandra came up with a number of fun and interesting questions for people to try to use in order to hone their skills of thinking a speaking on the spot. We had a number of club members and guests take part and it was good fun.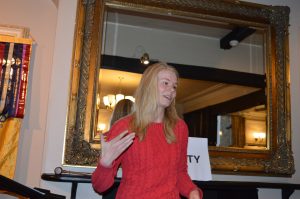 Isabelle evaluated the table topics, giving feedback to participants on things that went well, as well as some helpful pointers.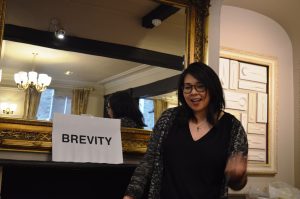 Before the evening ended, Joy gave a well-delivered Grammarian report and Stella from Kings Cross Speakers gave the General Evaluator report!