All good things must come to an end…

That is it! Another Toastmasters Year has reached its end. It is with emotion and great expectations that Caroline and I, Co-Presidents of St. Paul's Speakers, hand over the leadership of the club to our new President, Christopher Walker. We have had the privilege and pleasure to serve the club over the last year, and could not have done so without the tremendous support of our Committee or the continued enthusiasm of fellow St. Paul's Speakers! We wish the new President and Committee all the very best, and are confident that St. Paul's Speakers will continue its success in 2017-2018!
Last week's meeting
A WHIMSICAL night indeed – whimsical being the wonderful word of the day offered by our Grammarian Solmaz – to end the Toastmasters year, with an Icebreaker by one of our newest members Lydia who marked the start of her public speaking journey with a beautiful speech about her relationship with London, followed by Thien Trang who completed her Competent Communication manual with a speech about how she had been inspired by fellow member Christine Alaby to make a considerable life-changing decision. It was a perfect meeting to showcase the benefits of Toastmasters and its impact on people, both as speakers and human beings.
Our Toastmaster of the evening was Kris who stepped in at the very last minute yet managed this crucial role with great aplomb. Our Table Topic Master Elzbieta kept the audience and potential speakers on their toes with a range of entertaining topics relative to summer holidays – what a whimsical notion considering how chilly and overcast the day was! Our speakers, both members and guests, all got the audience laughing. We know, for instance, that Ling would rather die than spend 2 weeks on holiday without any internet connection! And that Florian of course would like to recruit a team for his mission to colonise Mars. Any volunteers? The best Table Topic Speaker award, however, went to McVal who told us about how even the best vacation can last too long!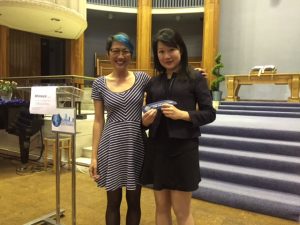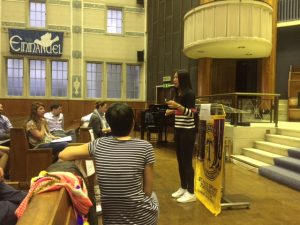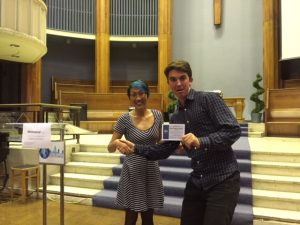 Important dates
Get your diaries out! 30th August 2017 will be our next 5th Wednesday meeting of the month and new President Christopher Walker has already lined up a great workshop on Table Topics by expert Paul Caroll who will show us all that there is a real art to impromptu speaking. This workshop will be all the more befitting ahead of the club Humorous Speech & Table Topics Contest in early September!
Think about entering the contest or helping out as functionaries. Watch this space for more details from the new President!
Of course, please do use Easy Speak to sign up for speeches and roles. St. Paul's Speakers needs you!