Florian opened with a thorough explanation of Toastmasters UK and `international and for those guests present a guide through the contests.
He handed to the contest chair for the Humorous Contest, which was James who explicitly explained the rules and compered the 3 entrants.
Lewis and Jamie and Sarah.
The audience attentive and respectful of the judges most valued guests from other clubs who had to score relevant criteria and also allow time after each speech to add up their scores.
Some valued helpers in the form of time keepers Catherine and Roxanna and Ballot Counters Katie and Nisha  (her first meeting as member) to assist the chief judge Dave Longley who is our Area 33 Director.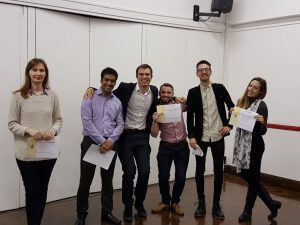 Whilst the Judges and Ballot Counters were doing their bit Contest Chair James interviewed the contestants in the form of a show asking them questions about their speeches and how they arrived at the ideas. This was a pleasure to listen to as it is helpful for our many new members at St Paul's Speakers to learn about what they indeed might do in their Toastmaster journey in this innovative way.
There was indeed a table topic session given by one of the most valued and advanced speakers we have at St Paul's Speakers, David who told us a scary story about scary places.
After the break then The Contest Chair Role was handed over to Michael another well-established experienced speaker of our club.
He guided through 6 contestants who had entered the Table Topics Contest: –
Sarah
Daniel
Lewius
Jamie
Kash
And Ella
Each person needed to answer the question "Reality TV…. Is it good or bad??"
Amazing how popular 'Love island is' as was mentioned by a number of the entrants.
Again to fill in for the judges and ballot counters to count and verify the votes another round of table topics ensued with various challenging and thought provoking subjects.
Once all the complete the result were in ………
In anticipation we discovered
That:-
Sarah won the Humorous Contest – Well Done Sarah….
Table Topics contest Winners
3rd place – Ella
2nd place – Lewis
1st place – Jamie
Well done all……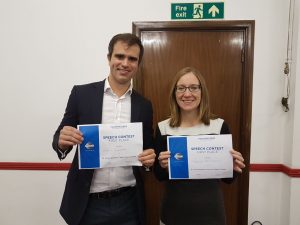 The winners will go onto to the Area 33 Contest, which will be in early October
with the Divisional Contest being help on Saturday 14th October.
Anyone can go along to support Sarah and Jamie in representing St Paul's Speakers in the area competition. So watch out for a notice of the actual date. The speakers and the club will really appreciate your support.
A contest doesn't organise itself. It needs organisation in the background to network with other clubs in order to invite judges and also to members can reciprocate to other clubs to be judges which all helps towards gaining points for the leadership award. This is a focus this year of our club.