In our meeting last Wednesday our Toastmaster of the evening was Mikhail who guided us all through the evening's events.
Mikhail first introduced the functionaries, starting with timekeeper Hamad, who explained his role of keeping time on the evening's events. Next was Caroline, as the grammarian. Caroline introduced the word of the day "hyperbole" (meaning "obvious exaggeration"), encouraging speakers to use the word and to also use examples of hyperbole in their speeches.
The prepared speeches began with Anne, who presented her first ever Toastmasters speech (well done!), the "icebreaker speech". We learned about Anne's life, moving from arty girl, to a financial analyst with a love for travel and family. Our second speech was given by David, who came on stage to deliver his speech "lads on tour" equipped with an appropriate stage prop – a glass of beer. The speech was from the advanced manual "humourously speaking", and David regaled us with tales of their night in Le Mans as part of a road trip in France. David took us through his evening in fun (and graphic) detail. Our last prepared speech of the evening was given by Christopher. His was a technical presentation from the advanced manuals, and titled "Transferring big data over the Internet". Christopher delivered a technical presentation, in a very clear and understandable way.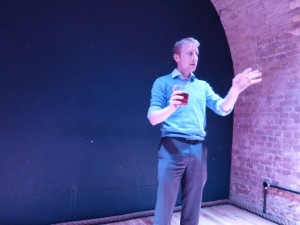 After the break, the evaluations started with James evaluating Anne's speech, congratulating Anne on her clear voice and composure. Michael gave a fittingly humourous evaluation of David's speech, and Florian evaluated Christopher's speech, picking up on some technical aspects of his speech.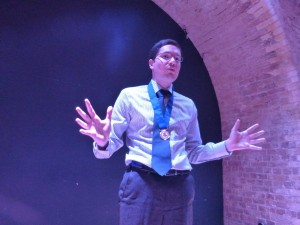 Then the Table Topics began, with Florian beginning his set of topics with some tricky open questions, such as "what came first, the chicken or the egg?" and "do you take it or leave it?" One of our new members, Andrew, won, with his quick and humourous answer.
Dani gave an insightful and thorough evaluations of the Table Topics, followed by Caroline who made some comments on interesting word usage by the speakers, and congratulated those who had used the word of the day.
We were fortunate to have an external general evaluator, Kate Osborne, who gave an evaluation for all those who hadn't yet been evaluated, making interesting comments and ideas for improvement.
Congratulations to best speaker (Anne) and best evaluator (Michael)