Last Meeting
At our last meeting on January 24 we had FIVE great speeches from the Competent Communicator's manual and enough time for a lively round of Table Topics.
Christopher Walker kicked things off by doing the President's Introduction. He was followed by Florian Bay acting as Toastmaster. Florian explained the schedule for the evening and outlined next steps. Robyn Brewer then came on stage to explain her role as the timekeeper. Finally, Sarah Hawkins discussed her role as Grammarian.
Speeches
This week we had the pleasure of listening to FIVE speeches including THREE CC#4 "How to Say It" speeches.
The five speeches were as follows:
Alexander Dziri with "Dancing is my fight club" (Competent Communication Manual #3 – Get to the Point)
McVal Osborne with "The Long Journey" (Competent Communication Manual #4 – How to Say It)
Anthony Grice with "My Journey to Toastmasters" (Competent Communication Manual #4 – How to Say It)
Khashrul Hussain with "Losing your dream home" (Competent Communication Manual #4 – How to Say It)
Roxanna Zea with "Do you know what your body is trying to tell you?" (Competent Communication Manual #5 – Your Body Speaks)
Table Topics!
After five amazing speeches, we managed to squeeze in a short round of Table Topics for the members who had yet to speak and even a few guests!
For those of you who need a quick reminder, Table Topics are impromptu speeches. The purpose of the Table Topics section is to help members think on their feet. Each person speaks on a given subject for between one and two minutes. It also allows speaking opportunities for those who are not programmed for other roles on the agenda.
SPECIAL: Jan 31st Speech Workshop [FREE]
On the fifth Wednesday of this month we have a Special Workshop. Here's a brief description of what you can expect…
Speeches That Matter
It's a great skill in Toastmasters to knock up a speech in no time and deliver it well. But what would you do when it really counts? A speech contest, a big work presentation, a special event; how do you prepare for the speeches that matter? In this workshop Chris will look at the process he went through to take speeches from strange ideas in his head to District finals and ultimately to the World Championships in Malaysia in 2014. What is the difference between a speech that wins a club night ribbon and one that wins a District final? And how can you turn one into the other? In this workshop Chris will look at:
The steps for taking a speech from an idea to a finished piece.
How to make your speech stand out from the crowd.
How to delivery what you've prepared so you will be remembered.
Chris Boden joined Toastmasters in 2007 to overcome his shyness and learn to speak with authority at work. He is a former President of Holborn Speakers and founder member of St Paul's Speakers.  Since 2011 he has made eight District finals, winning two of them (Evaluation 2011, International Speech 2014) and taking a trophy in five others. He is one of a small handful of people to have won a District trophy in all four contest disciplines.
(Above: Alexander Dziri and Anthony Grice winning Best Speakers.)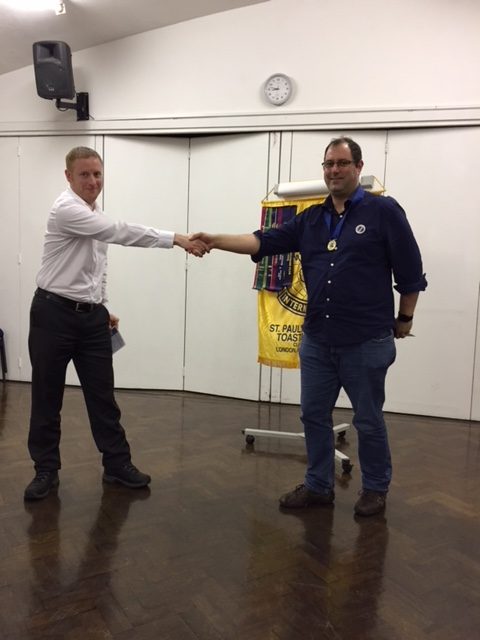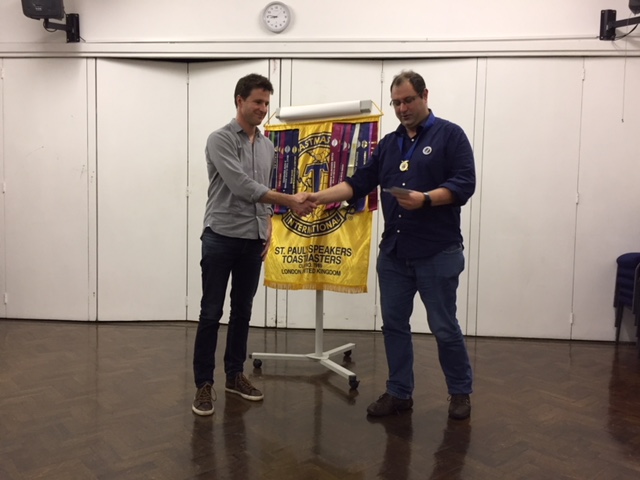 (Above: Returning members…)