St Paul's Speakers had an invigorating evening with four fantastic speeches, four insightful evaluations, and a full set of table topics.
The meeting began with our Club President – Rakesh kicking things off by asking the audience what they think about Pret a Manger. A seemingly innocuous question, but Rakesh masterfully turned it into a contemplation of courage, friendship, and the common threads that bind us all together.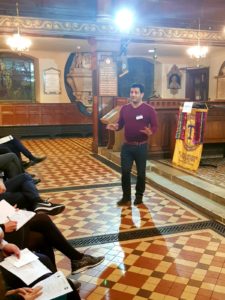 The toastmaster for the evening was Florian, who took command of the evening with characteristic charm and confidence, starting by leading the audience thorough a set of breathing exercises and vocal warm ups. An excellent way to combat those pre-speech nerves!
The first of the functionaries was the timekeeper, Ann, who gave a clear explanation of her role, and of the importance of keeping in time.  Our grammarian Myra followed, explaining her role and disclosing the word of the day – rendezvous.
The first speaker was Mark doing his Icebreaker. He told us of his misadventures at the Chessington World of Adventures Resort, where he was kicked out of the park for jumping out of a ride but still managed to get a full refund on account of bad weather. There's nothing more fun than playing the system, even at an amusement park. Well done to Mark on his Icebreaker!
The second speaker was Pedro, who reminded us all of the importance of failing in life. He skillfully combined the stories of four success icons – from JK Rowling to Michael Jordan – to highlight the importance of perseverance and resilience for real success. A very welcome reminder for some of us!
Robyn was our third speaker and told us of her passion for running. Following nicely from Pedro's speech, Robyn told us of her initial failed attempts at running, only to find a passion for it later in life. She has now secured a place at the London Marathon (out of more than 400,000 applicants!) and is getting ready for the challenge. Good luck Robyn!
Our final speaker was Ricardo, who told us about the time he booked a lavish five-star holiday to Turkey. To his chagrin, a visa faux-pas meant that he spent the night in a criminal detention center near the airport instead of a luxury suite. Well-deserved for abusing that corporate credit card!
Next up were the speech evaluators, Christelle, Rakesh, Alessandro, and Sarah. They all gave the speakers excellent feedback on their stage presence, delivery, use of language, and movement on stage. Such judicious and thoughtful evaluations do St. Paul's Speakers proud!
Our Table Topics Master Caroline followed with a wonderful display of wit and stage presence. She produced a list inviting table topics, such as what to do after winning the lottery, what to throw away from your partner's belongings, and how far you would go for an autograph. The Table Topics winner for the evening, Nathan, told us of the time he left work in the middle of the day to greet the Arsenal players and have his expensive Thomas Pink shirt covered in signatures. We hope he will wear it to our meeting soon.
Sarah, our Topic Evaluator, gave excellent feedback to every speaker, barely stopping to look at the notes that she hid out of sight. An impressive display of memory! Her feedback was personalized and helpful.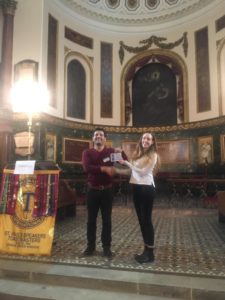 At the end of the meeting, Theo from Kings Cross Speakers acted as General Evaluator. He gave us great feedback on our meeting, including trying to have a theme for the evening. A missed opportunity with Valentine's Day around the corner (and a good reminder for those of us who had forgotten!).
As for the evening's awards:
Best Speaker – Ricardo Z
Best Table Topic – Nathan
Best Evaluator – Sarah H
Pathways Level 1 – Sarah B 
New Members – Nathan, Lucy, Eduardo, Alexander
Congratulations to all the speakers, new members, and a special thanks to Theo for being our General Evaluator for the evening. Another uplifting rendezvous at St Paul's Speakers.