In our last exciting meeting on Wednesday, Hamad was Toastmaster. The theme of the evening was "forgetting" – have you had a time when you got home late at night and realised you'd forgotten your keys? Well, that's exactly what happened to Hamad, and he introduced the functionaries and speakers with anecdotes of their various memory lapses.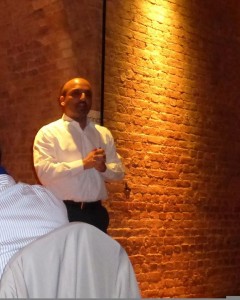 Nadine was timekeeper of the evening, and James was the grammarian, introducing "succinct" as word of the day, which people tried to fit into their speeches.
Florian gave us the first prepared speech, his being from the advanced manuals where the aim was to entertain. The speech demonstrated a very different side of the club's president, as he entertained us with a story of his alcohol-fuelled wanderings in Liège. Florian brought passion and energy (and some serious street-talk!) to his story.
Our second speaker was Joy, with a humorous speech, again from the advanced manuals. Joy started with a question – "who likes animals?", and proceeded to regale us with her experiences growing up on a farm, the animals proving a rich source of material. There were puns a many in the engaging and funny and warm speech – who would have thought that a toastmaster could be responsible for the school "ratgate" incident!?
The evaluations of these speakers were done by Thien and by Caroline, who offered some skilful and enlightening comments on what the speakers did well, and ideas for improvement.
Ross, a recently joined Toastmaster, had prepared some excellent and thought-provoking table topics for the evening, in which many members and guests joined in and faced such questions as "would you rather be a joyful simpleton or a tortured genius?" James was awarded "best table topic" for his answer.
As part of the evaluations, Sarah gave some insightful evaluations of the table topics. James, as grammarian, congratulated everyone on using few filler words, and with high levels of language used throughout. Then Edward from London Olympians gave an thorough general evaluation, commenting on things that the members of the club did well and points of improvement.
Before finishing the evening, David, the only member who had not yet spoken in the evening, was invited up on stage and presented with a table topic to do. David told us of the culinary delights of Northeast US – which was an excellent way to end, before we headed over to the waiting food.