This Wednesday 08-Aug-18, St Paul's Speakers were proud to host a very special guest; District 91 International Speech Contest Champion Fabio de Sio. Fabio has beaten off every competitor from the south of the UK to reach the Semi Finals which he will compete in next month in Chicago. With Fabio performing two speeches, the format was slightly different and members were treated to an evaluation extravaganza!
Opening the proceedings was Mayra, Sergeant at Arms; who completed the house-keeping elements of the role with aplomb. This added an air of formality as she welcomed Rakesh, the club President to the stage.
Rakesh, as always, spoke with great enthusiasm and his excitement for what would be a great meeting, fed into the energy of the audience.
The Toastmaster for the evening was Caroline, whose natural and relaxed delivery put the audience at ease. She introduced the speakers and functionaries, Alessandaro as Timekeeper and Alexander as Grammarian, smoothly and encouragingly.
Alessendaro gave us concise reports of every speaker; commending those who that kept to their allotted time and for those who took a little too long, notes to take way and improve.
Alexander owned his role of Grammarian; encouraging the audience to keep the energy high. When he delivered his report, he noted all the interesting uses of language throughout the meeting.
The first speaker up was Sarah Beckwith, who gave a tutorial in how to evaluate. She drew from real life examples of what to commend and recommend from her experiences in evaluating club members, as well as giving some evaluation structure models for people to experiment with.
Then the Fabulous Fabio took to the stage; charismatic and energetic, he commanded the stage with style and oozed authenticity. Whilst incredibly funny, Fabio didn't shy away from sadder personal subject matter and gave the audience a revealing account of his life in both his speeches.
Fabio performed a speech either side of the break with evaluations following immediately after.
The first to evaluate Fabio's first speech was Florian; commanding and composed, he highlighted the positives of the speech but with bold recommendations of how to take it to the next level.
Robyn took to the stage next. A beaming smile on her face throughout conveyed her enjoyment of the speech. Her speech, however, was packed with structure; following a "Saw, Heard, Felt" format, she managed to find both commendations and recommendations in each section.
Tom was then next up and in his first ever evaluation, was evaluating a District Champion. Nevertheless, he found succinct commendations and conveyed how he now had a "Man-Crush" on Fabio!
Mayra was back to the stage with her welcoming of the guests, which she did with warmth and openness.
Lewis was next up after the break, the first to evaluate Fabio's second speech. He commended Fabio on his genuine performance and gave technical recommendations to accentuate some of the sadder moments of the story.
Pedro, with a commanding voice, gave us a solid evaluation and demonstrated how the stage could be fully utilised by coming right into the audience.
Finally, Chris gave an enthusiastic evaluation with nice technical commendations and as a recommendation, commented on the speech as a whole and the message Fabio was trying to communicate.
The General Evaluator, Margherita, did an excellent job. With so few speakers and so many evaluators, she managed to give everyone at least one commendation and recommendation – all in the standard allocated time…just!
To close the meeting, Rakesh came back to the stage. In what was a lovely touch, gave a mini general evaluation of everyone who came to the stage, highlighting everyone's contribution to a memorable meeting.
The two Evaluation winners, one from each section, were Florian and Chris. St Paul's were also delighted to welcome Alessandaro and Rinat as members of the club. We are looking forward to them starting their Toastmasters journey with us.
Whilst a break in the traditional format, St Paul's Speakers once again proved its value of being a friendly and welcoming club, especially when welcoming a District Champion. To that end, St Paul's Speakers wishes Fabio de Sio best of luck in Chicago!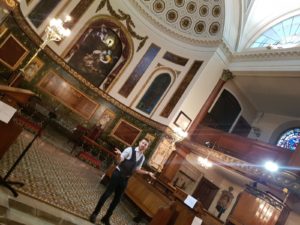 London St Paul's Speakers Toastmasters Club
Overcome your fears of Public Speaking. Master communication skills and become a confident speaker at presentations.
We are a London Toastmasters club, based in the City of London.