What comes next?
Hi everyone! Here we are in July and we've already gotten off to a fantastic start of the new Toastmasters Year. At the end of June, I was given the opportunity to help lead the club as our new president. We've got a great team, and am excited to have the been given the opportunity to serve the club over the course of the next year. We can't wait to work with many more of of my fellow St. Paul's Speakers!
Thanks,
Chris
Last Meeting!
The first meeting of July EPITOMIZED the type of high-quality gathering we hope to emulate going forward throughout the year. Epitomize was the wonderful word of the day offered by our Grammarian Kashrul, who did a great job tracking language usage throughout. Our meeting was lead by our capable and talented Toastmaster for the evening, Florian Bay, who managed to get everyone energized by leading the group in a vocal warm-up at the beginning of the meeting. One of our newest members, Anthony, did a fantastic job as Timekeeper throughout the meeting, make sure to keep everyone on task and on time.
We witnessed two wonderful speeches during our last meeting, giving us great examples of Speech #2 from the Competent Communication Manual – Organise Your Speech. The first speech came from Roxanna Zea, who spoke about the importance of learning a new instrument with a beautiful speech about her journey towards learning the violin. The next speech came from Ling Luo with a powerful speech about how sometimes communication is about much more than the words that you choose to use. It was a perfect meeting to showcase the benefits of Toastmasters and its impact on people, both as speakers and human beings.
Our Sergeant at Arms of the evening was Bashir, who introduced guests and managed this crucial role with great confidence. Our Table Topic Master Sarah kept the audience and potential speakers on their toes with a range of topics related to old sayings – challenging us to decide whether they were antiquated notions or important life lessons! Our speakers, both members and guests, all got the audience engaged.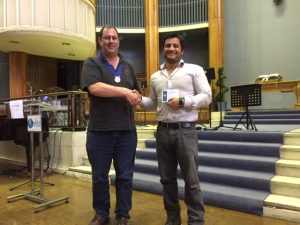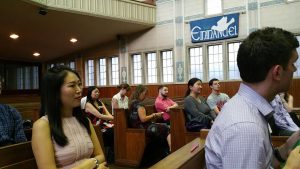 Important Dates
Impromptu Speaking Workshop! (

August 30

)
Get your diaries out! 30th August 2017 will be our next 5th Wednesday meeting of the month and new President Christopher Walker has already lined up a great workshop on Table Topics by expert Paul Caroll who will show us all that there is a real art to impromptu speaking. This workshop will be all the more befitting ahead of the club Humorous Speech & Table Topics Contest in early September!
Humorous Speech & Table Topics Contest (

September 13

)
Think about entering the contest or helping out as functionaries. Watch this space for more details from Chris. The event is on Wednesday, 13th September 2017.
Of course, please do use Easy Speak to sign up for speeches and roles. St. Paul's Speakers needs you!